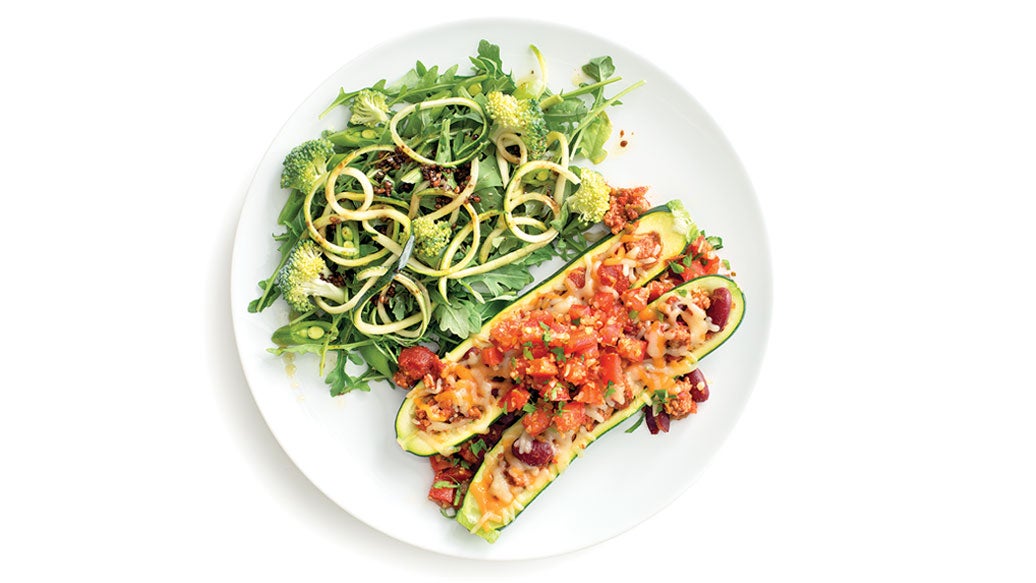 20 min
4 servings
$3.10/serving
Perfectly Balance Your Plate
Serve with 2 cups mixed greens and veggies and 1⁄2 cup brown rice.
Ingredients
4 medium zucchinis, cut in half lengthwise
1⁄2 cup Mexican blend shredded cheese
Toppings (optional): extra Poco Picante Salsa, chopped cilantro or green onion, sliced avocado.
Preparation
Preheat broiler to high. 
Using the tip of a spoon, scrape out centers of zucchini halves, leaving 1⁄4" thick shell on each half. Chop and stir zucchini centres into taco filling; set aside.
Place zucchini shells in Multipurpose Steamer. Cover and microwave on high for 4 min, or just until tender. 
Spread salsa in bottom of a large baking dish. Tuck in zucchini halves (they can touch).
Fill zucchini hollows with taco filling; press in to pack down. Sprinkle cheese on top.
Place dish on a Sheet Pan. Broil, rotating pan, until cheese evenly melts, 1–2 min. Garnish with toppings, if desired.
Nutritional Information
Per serving (2 boats): Calories 260, Fat 11 g (Saturated 4 g, Trans 0 g), Cholesterol 50 mg, Sodium 670 mg, Carbohydrate 17 g (Fiber 3 g, Sugars 4 g), Protein 27 g.
Tips
Add a dollop of sour cream or Greek yogurt—they taste great with salsa!