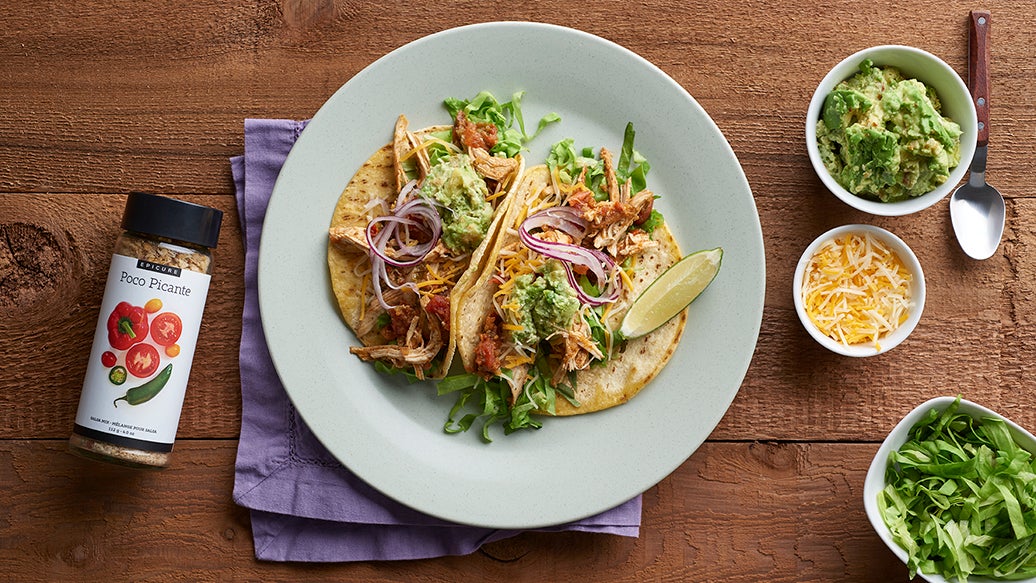 3 - 6 hrs
8 servings
$3.50/serving
Who doesn't love tacos? Make these tonight or assemble, toss in your slow cooker, and come home to a delicious meal. Take the night off cooking—you deserve it.
Perfectly Balance Your Plate
Serve with 1 tbsp prepared Guacamole, 1⁄2 cup shredded mixed greens, and 1⁄4 cup cheese, your choice, in 2 small corn tortillas.
Ingredients
1 1⁄2 lbs (680 g) boneless skinless chicken breast
Preparation
Make it now:
Combine all ingredients in a slow cooker and stir gently.
Cover and cook for 4 hours on high or 8 hours on low setting.
Make it ahead and freeze:
Place a large freezable bag standing open in a bowl; this will keep it in place when adding ingredients.
Place all ingredients except broth in the bag, seal, and lay flat in the freezer.
When ready to eat, remove from freezer at least 1 hour before cooking.
Place contents in the slow cooker, add broth, cover, and cook for 4 hours on high or 8 hours on low setting.
Nutritional Information
Per serving (2 tacos): Calories 250, Fat 6 g (Saturated 1.5 g, Trans 0 g), Cholesterol 95 mg, Sodium 580 mg, Carbohydrate 33 g (Fiber 6 g, Sugars 4 g), Protein 39 g.